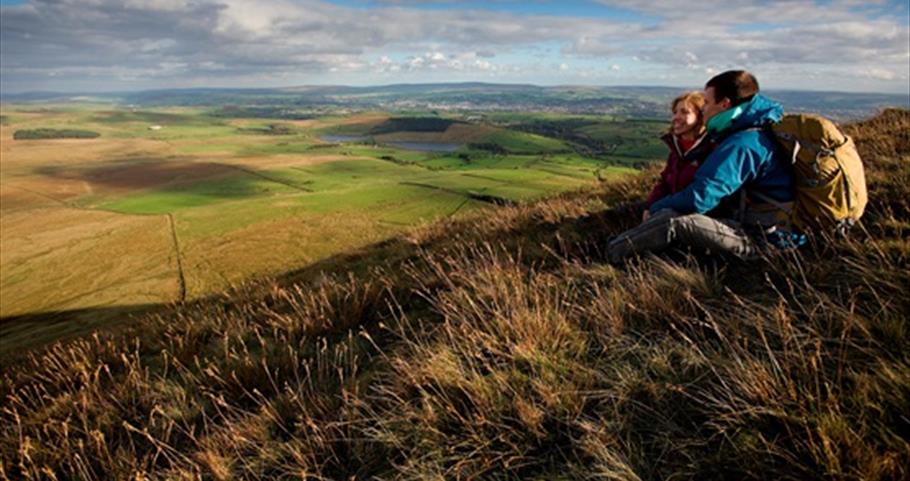 Walking in Pendle
Fantastic walks
Medium Walks
Number of results:
Number of results: 9
The East Colne Way is a 5 mile circular walk starting from Lakeside Cafe, Ball Grove Park, just outside Colne. Described as a walk through the green lungs of Colne, you are not far from the end of the M65, but could be miles from anywhere in…

Gloriously varied and unspoilt countryside awaits those who walk Pendle's Three Peaks. The Three Peaks in question are Pendle Hill, Boulsworth Hill, and Weets Hill and all have their own very unique character. Pendle Hill is magnificent and brooding

This lovely 6 mile circular walk takes you around Trawden and Wycoller. The Bronte Sisters, famous for their literary work, gathered inspiration for their books from the people and countryside around them. They often walked to Wycoller in Pendle,…

The Ferndean Way is a lovely route from historic Waterside in Colne, visiting not one, but two beautiful country parks.

This 5.5 mile walk takes you gently to the summit of Weets Hill, with its panoramic views across to Pendle Hill on one side, and the to the Yorkshire Dales, on the other. 

A 9 mile circular walk exploring the area around beautiful Barnoldswick. Beating the Bounds is an ancient tradition dating back around 2000 years when there were no maps. Local people would walk the boundaries of their local parish to mark it with…

The Jonas Moore Walk takes you on a journey through history. Jonas was born in Pendle, at Higher White Lee, in Higham in 1617. Affectionately known as the "Father of Time" he helped set up the Greenwich Observatory which was responsible for the…

A walk which takes in a variety of landscapes from the gentle setting of the Leeds & Liverpool Canal reservoirs to remote upland with spectacular views of the surrounding area.

This is a fascinating and picturesque figure of eight historical and countryside walking trail radiating from the village of Barley covering the story of the Pendle witches.