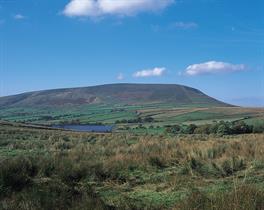 Description
SCULPTURE TRAIL NOW FULLY OPEN TO VISITORS
Four artists have created sculptures that centre on the famous trial of the Pendle Witches to mark the 400th anniversary of that event. The artists are Phillipe Handford, Martyn Bednarczuk, Sarah McDade and Steve Blaylock
The story will be told through the trail in Aitken Wood, beneath Pendle Hill, which features sculptures made out of stone, wood and metal.
Phillipe Handford, who is originally from Burnley, but now lives in Barrowford and has a workshop in Colne, is the lead artist in the project.
He said: "Between New Year and May 2010 I went up Pendle Hill around 30 times with the view of creating natural sculptures that seemed to excite other people.
"As a result of this I was approached by the council to see if I would be interested in creating some kind of trail.
"It is great to be involved in this project, especially with it being in my neck of the woods. I love this area and the countryside around here."
Ribble Valley sculptor Martyn Bednarczuk is carving a lifesize Witchfinder General figure for the trail.
He said: "I have done a lot of research to try and get it as accurate as I possibly can. I have had a look at old photos and on the internet to try and get it right.
Sarah McDade has created ten stone plaques with different pictures and symbols. Each one is different and represents the ten Pendle Witches that died or were hanged in 1612. Steve Blaylock is crafting metal animals which will sit in the trees, including, bats and a spider!
The sculpture trail project is part financed by the European Agricultural Fund for Rural Development: Europe investing in rural areas, with Defra** as the Managing Authority and via the Pennine Lancashire Local Action Group.
Contact Details
Aitken Wood
Barley
Nr Burnley
Lancashire
BB12 9LD
Facilities
Provider Preferences