Pendle Sculpture Trail
If you go down to the woods today…
…..you're sure to be in for a big surprise! The wood in question is Aitken Wood. Walk up from the lovely village of Barley to the wood and you'll find bats, stone witches, mythical creatures, and a host of marvellous sculptures on the Pendle Sculpture Trail.
Dare you find our witches on our fiendish trail? The famous Pendle Witches that were hanged over 400 years ago each have individually styled tree plaques designed after them. Match them to each witches own personal story and you'll be well on the way to finding out more about them.
Or why not work out the riddles that our mythical creatures have set you which will help you find our final mystery creature…..but be careful where you tread, as some of the trees themselves seem to have a life of their own! And who knows what else you might find amongst this amazing woodland setting. Are those ghostly men I see, or holly bushes? Is the boggart trying to steal mushrooms and run away? Or do I see a face peering at me through the trees?
Lead Artist, Philippe Handford, said "It's a very exciting year for us, as this year sees the further development of the trail that we started back in 2012, with 16 new sculptures being added by 15 different artists. So there's a fantastic variety of work on display"
One of the artists, Ben Gates, who designed the Magic Chair, is a great example of that variety, "In my work, benches, tables, and chairs tend to acquire limbs, feet, hands and sometimes eyeballs and ears, potentially startling the odd rambler!"
Another of the artists, Peter Naylor has done a very atmospheric piece, of the Pendle Witches, chained up and walking across the landscape in an almost ghostly fashion. He is one of the few artists, including Anthony Gormley, to win the prestigious Marsh Award.
The artists come from near and far, including from both the North and South of Ireland. Ngaire Jackson told us "It's the first time that I've taken my work beyond Ireland, and it won't be the last time I come here. There's a magical quality about the whole area. I'm glad my sculptures are in such an inspirational setting".
Download your free guide to the Pendle Sculpture Trail here.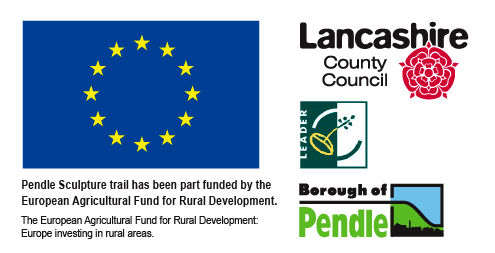 Number of results:
Number of results: 3
Type

Type:

Arts, Crafts & Galleries

The fascinating true story of the Pendle Witches is being told in "stone" at this visitor attraction. The Pendle Sculpture Trail has ten ceramic plaques. Each has its own unique symbols which represent each of the Pendle people who were hanged. We…

The Atom Trail is a short circular walking trail around one of East Lancashire's intriguing "Panopticans" or artistic "sculptures" offering stunning viewpoints. The Atom looks down on the village of Wycoller and its Country Park. The views are grea

In 2012 the Pendle Sculpture Trail was launched in Aitken Wood, Barley. In 2019 some new artwork was added to this lovely woodland site which proved so popular that Pendle Council sought to grow the trail beyond its original site. After careful…