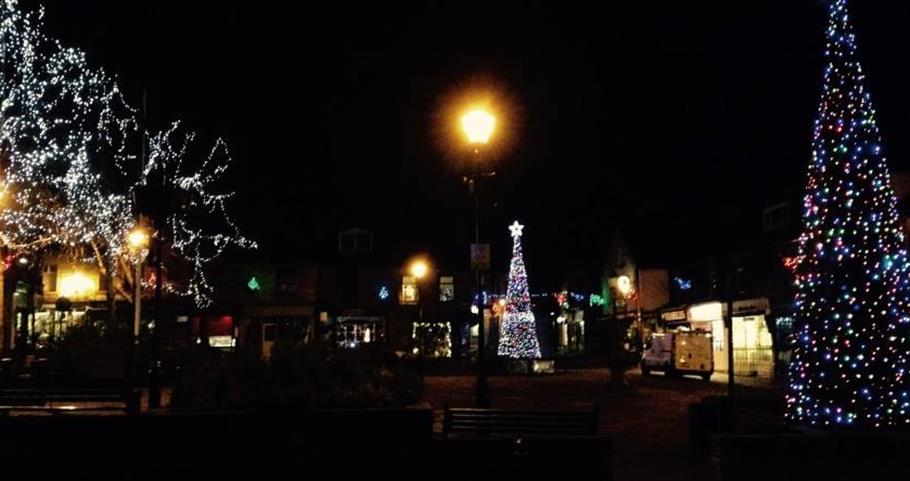 Christmas Events
We have lots of great festive events in Pendle. Starting with the Christmas Event & Lights Switch On in Barnoldswick on the 17th November. The next two events are both on the 24th November. The Christmas Switch On in Colne, and the Christmas Switch On in Nelson, which is also a special Lancashire Day event.
Number of results:
Number of results: 1533
, currently showing 1 to 20.
Suitable for touring by car, or for cycling, Part One of these three Scenic Road Trails, this trail concentrates on the story of the famous Pendle Witches, taking in the lovely villages of Barley, Newchurch, Downham, and Roughlee.

Venue

Dates

From:

1 Jan 2009

to

1 Jan 3009

A free guide to what to see and do in Pendle, presented as interesting themed trails.

Dates

From:

1 Jan 2009

to

1 Jan 3009

A free guide to a selection of Pendle's walking and cycling routes.

Dates

From:

1 Jan 2009

to

1 Jan 3009

Fascinating picturesque figure of eight historical trail radiating from the village of Barley covering the story of the Pendle Witches.

Venue

Dates

From:

1 Jan 2009

to

1 Jan 3009

A Free Guide to over 20 publications available to visitors from Pendle's Tourism Office, including walking and cycling routes, the Pendle Witches, and the Pendle Scenic Car Trails. Some publications featured in this guide are chargeable. The Guide h

Dates

From:

1 Jan 2009

to

1 Jan 3009

A free programme of over 80 free guided countryside walks in Pendle. There are walks for all abilities from 2 miles to 14! The Festival happens at the start of September every year, and the programme is mailed to visitors in june/july. You're more t

Dates

From:

1 Jan 2009

to

1 Jan 3009

There are three Pendle Scenic Road Trails, suitable for touring in the car, or cycling. Trail No1 is called the Pendle Witches Scenic Car Trail, and as the name describes on this trail you can discover some of the famous places associated with the wi

Dates

From:

1 Jan 2009

to

1 Jan 3009

Type

Type:

Heritage / Visitor Centre

The Pendle Heritage Centre is open daily and includes a Garden Tearoom, 18th Century Walled Garden, Cruck Frame Barn, a Parlour shop, Tourist Information Centre, Pendle Arts Gallery and a Conference Centre.

Dates

From:

1 Nov 2015

to

24 Dec 2015

Type

Type:

Leisure / Swimming Pool

Wavelengths is a leisure pool with fun for all the family. The 25m swimming pool has a sloping beach into the water and a roof-high waterslide, complete with black hole feature, as well as a wave machine which operates at regular intervals.


Venue

Dates

From:

1 Jan 2016

to

31 Dec 2016

Type

Type:

Destination Spa

Inside Spa's jaw-dropping thermal suite is the ideal place to relax, reflect & recharge, with its beautiful contemporary styling combined with the latest innovations in Spa facilities. Take time out to indulge in a 2 hour Spa Wellness Experience &…

Venue

Dates

From:

1 Jan 2016

to

31 Dec 2016

The Muni is an Edwardian theatre situated in the heart of Colne town centre, offering year-round entertainment for all the family, from live music, big name comedians and dance nights to an annual pantomime. The iconic landmark can hold up to 600 in…

Venue

Dates

From:

1 Jan 2015

to

31 Dec 2015

Fence Gate Lodge combines a beautifully restored and extended grade 2 listed building, with modern design-led facilities.The Lodge accommodates 17 luxury rooms, 5 junior suites, 1 Master Suite and 1 stunning apartment all of which are spacious and…

Dates

From:

1 Jan 2017

to

31 Dec 2017

The Rookery is a unique grass roofed dwelling located in an area of outstanding natural beauty in East Lancashire. With industrial and steampunk influences combined with bespoke craftsmanship and breath-taking views this space is not a home from…

Dates

From:

1 Jan 2017

to

31 Dec 2017

Lakeside Cafe is situated in the award winning Green Flag Treasure and Nature Reserve Ball Grove Park. The cafe offers a warm, friendly and relaxing atmosphere with seating inside and outside, with fantastic views overlooking the lake.

Dates

From:

1 Jan 2016

to

31 Dec 2016

Home cooked food using local produce and how better to end the day or enjoy lunch during the course of it than with a meal at The Pendle Inn. Serving five different real ales and award winning food with real Lancashire friendly hospitality.

Dates

From:

1 Jan 2015

to

31 Dec 2015

Located on the fringe of the Pendle Forest in the heart of Pennine Lancashire is the beautiful 17th century treasure The Sparrowhawk in Fence.

Dates

From:

1 Jan 2015

to

31 Dec 2015

Type

Type:

Heritage / Visitor Centre

A demonstration featuring the textile mill engine in steam, original boilers and Lancashire loom demonstrations.

Dates

From:

1 Jan 2014

to

31 Dec 2014

The Pendle Inn is a well established traditional country Inn situated in the centre of Barley. The quiet country life and excellent facilities make it the first choice of many holiday makers.

Dates

From:

1 Jan 2015

to

31 Dec 2015

Nestled in the Pendle countryside, the White Swan at Fence is a Michelin starred restaurant boasting a relaxed, welcoming atmosphere and serving a great selection of fine cask ales. Offering a fine dining experience in a relaxed, welcoming…

Dates

From:

1 Jan 2017

to

31 Dec 2017

Type

Type:

Shop/Shopping Centre

Pendle Village Mill Shopping Outlet has something for everyone. Come and stroll around the Victorian courtyard with its water fountain and flowers, through the door into a "wonderland" full of great value items to suit all.

Dates

From:

1 Jan 2015

to

31 Dec 2015