Emily Maguire
Barnoldswick Music & Arts Centre
Rainhall Road
Barnoldswick
Lancs
BB18 5AF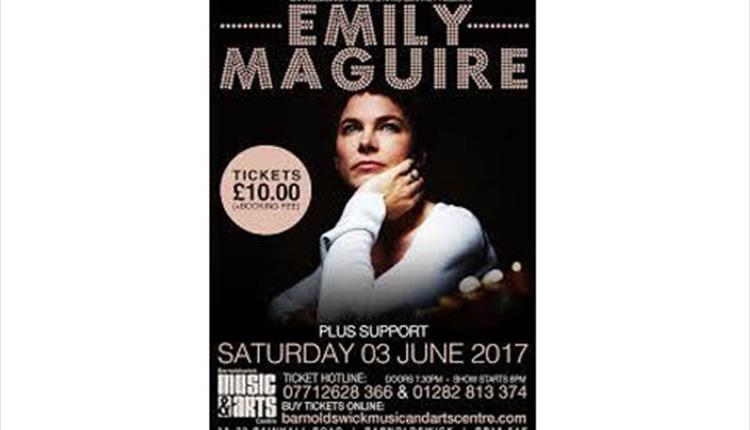 About
A classically-trained multi-instrumentalist, Emily Maguire is truly "a talent to be reckoned with" (R2 Magazine), her strong, thought-provoking lyrics, supremely expressive vocals and stunning live performances winning her fans across the globe.
Living for four years in a shack out in the Australian bush where she made goats cheese to finance her first two albums, Emily returned to the UK in 2007 and toured extensively with some of the world's great singer-songwriters, including American legend Don McLean.
Her third album 'Believer', released in 2009, received regular airplay on Radio 2 and was widely acclaimed in the music press, Maverick Magazine hailing it "a masterpiece".
Emily's much-anticipated fourth album, 'Bird Inside A Cage', followed in 2013. With its release funded entirely by her fans, 'Bird Inside A Cage' was a bold departure from her previous recordings, while still retaining all the underlying trademarks of her emotive, lyric-rich songs.
As an advocate for mental health, Emily speaks frequently in the media about combating the stigma of mental illness. She has been featured several times on Radio 4 including Woman's Hour, Loose Ends and Midweek, where she was interviewed by Libby Purves talking about her book 'Start Over Again', a deeply personal account of her experiences of living with bipolar disorder.
Following an intensive tour of Germany in June 2014, while rehearsing for the recording of her instrumental album, Emily developed chronic tendonitis in both arms, forcing her to cancel all her gigs and leaving her unable to play her instruments for 18 months, which triggered a severe depressive episode.
Now fully recovered, her hauntingly beautiful new album 'A Bit Of Blue', due for release in February 2017, has been receiving rave reviews in the music press. Emily has also just published a new book, 'Notes From The North Pole', a collection of poetry, prose and lyrics.
"My new album and book both came out of a dark time in my life so I feel very grateful that at least something good came out of something bad," says Emily. "I had a lot of support from my family, friends and fans which made all the difference and I am just so glad now to be playing music again," she adds.