Fairport Convention
Barnoldswick Music & Arts Centre
Rainhall Road
Barnoldswick
Lancs
BB18 5AF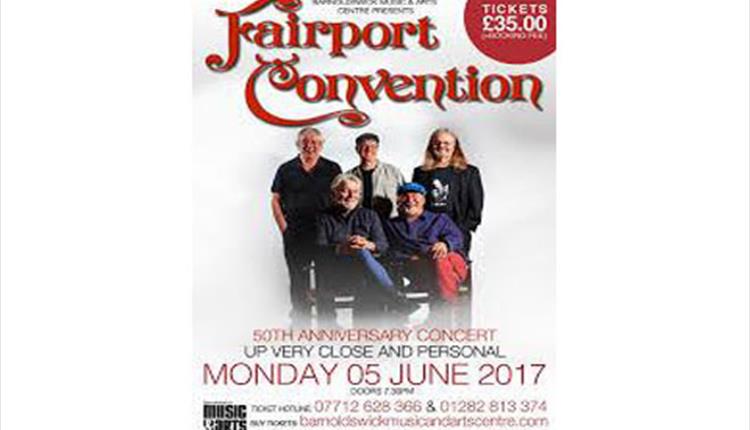 About
Enjoy an evening of musical celebration with Fairport Convention at this golden anniversary concert.
Credited with originating British folk-rock, Fairport first took to the stage in 1967's summer of love. Throughout the intervening five decades (and numerous changes of line-up) the band's passion for live performance has never wavered.
To mark its fiftieth year, Fairport has released a brand new CD titled 50:50@50. The band will play a selection of tracks from the album as well as long-established favourites from their extensive repertoire.
Fairport Convention has attracted critical acclaim throughout its long career. The band won a coveted BBC Lifetime Achievement Award, Radio 2 listeners voted Fairport's groundbreaking album Liege & Lief 'The Most Influential Folk Album of All Time', and their story and music has often featured on radio and television.
Fairport Convention's line-up is Simon Nicol on guitar and vocals, Dave Pegg on bass guitar, Chris Leslie on fiddle, mandolin and vocals, Ric Sanders on violin and Gerry Conway on drums and percussion.
"Impressive musicians with a great back catalogue... (they) take chances and clearly enjoy themselves." The Guardian
"Vigorous and confident...the music leapt around the room." The Mirror