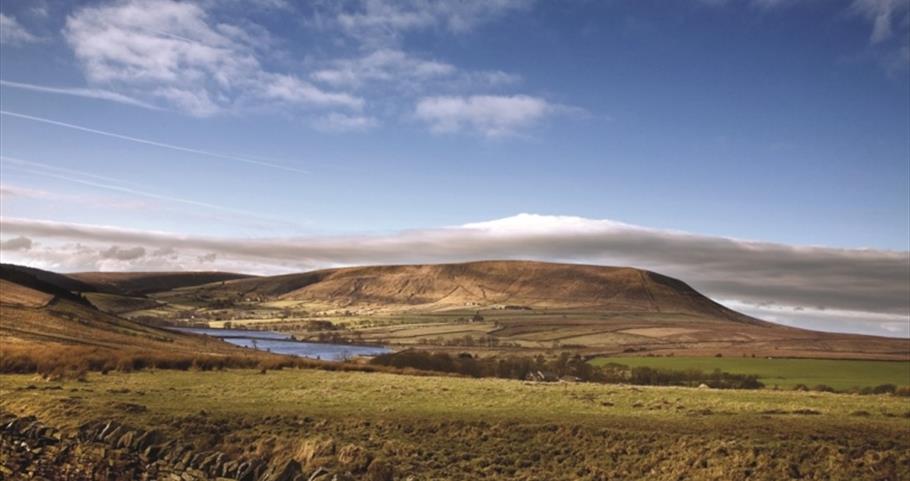 Area of Outstanding Natural Beauty
Forest of Bowland
Apart from the Pendle Witches the icon most associated with the Pendle is the stunning and dramatic Pendle Hill. The hill itself sits within what is officially designated as the Forest of Bowland Area of Outstanding Natural Beauty (AONB).
The area is famed for its landscape and its wildlife and was the first protected area in England to be awarded the European Charter for Sustainable Tourism in Protected Areas. It has also won a worldwide award in the "Best Destination" category in the Virgin Holidays Responsible Tourism Awards.
There's a great deal to do in the Forest of Bowland, particularly if you like outdoor activities. Bird watching is popular, as is walking and cycling. Barley is a good starting point for "The Walking with Witches Trail" as well as three "Reservoir Walks" and the "Pendle Sculpture Trail". "Bowland by Bike" is a guide containing rides in stunning scenery including a tour around the majestic Pendle Hill, or for those who prefer off-road, Gisburn Forest offers some fantastic mountain biking opportunities for all abilities.
The Forest of Bowland covers 803 square kms of rural Lancashire, as well as North Yorkshire. It is dotted thoughout with picturesque villages, such as Dunsop Bridge, Whitewell and Barley. There's also Newchurch, with its witch associations, and Roughlee with its fishery. These villages have often been awarded accolades in Lancashire's Best Kept Villages awards, and host the many events that make up the year-round Festival Bowland.
The area is also well known for its local produce, which features on many of its eateries menus including on the Ribble Valley Food Trail. For more information on the Forest of Bowland, including its attractions, activities and events go to www.forestofbowland.com.
The Lancashire districts that make up the Forest of Bowland AONB are…Lancaster, Pendle, Preston, Ribble Valley, Wyre